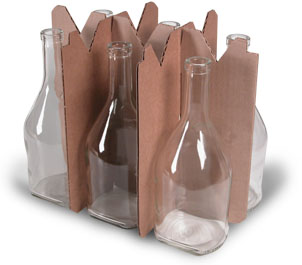 Patented Features
Increase packing line efficiencies when inserting partitions into your box.
Our specialized equipment creates clean corrugated partitions with corner cuts, orientation notches, V-notches and locking features without the need for costly cutting dies.
The patented "Y" necked friction lock keeps the corrugated partition together and easily collapses and opens without binding. Designed to work well with automated inserting equipment, our corrugated partitions are manufactured with a process that produces a much cleaner partition than conventional slotted corrugated partitions which can be difficult to deploy in a high-speed environment.